Image Galleries
Last edited 1/24/2020
On each page of your website, from regular pages to site events and district pages, you can upload images in our galleries to display in a variety of ways on any device. Pages with images stand out to visitors and keep them interested in the content. We have a few recommendations to make the most of the photo galleries.
Variety

Share a variety of images to highlight the best angles of your topic.
Each image should stand out for action or to show off a facility or location to its best affect.
Less is sometimes more - while you should highlight the best of your event or location, you can keep your audience's attention better with five or six quality images than with dozens.

Quality

Crisp, clean images look fantastic on today's high definition screens.
Our image size maximum is 5 MB - enough to get a good photo out there without sacrificing quality.

Consistency

Especially in the slider layouts, images that are the same ratio (1100x679) will slide evenly.
Images that are relatively taller will cause the page content to "jump" as shorter or taller images are displayed.

Interactivity

Our layouts each have their interactivity settings, such as active scrolling, viewing larger versions of the images, and hyperlinking.
Schedule publish and expiration dates on any image to automate holiday notifications or keep marketing images fresh.
When you are editing a page, you have a Top Gallery tab and a Bottom Gallery tab. Both have the same options:
Click Add Media to add a new picture.
Choose how the images are displayed on your webpage by using the Layout dropdown menu. Learn more about gallery layouts.
Select an image and click Edit Media to make changes or delete a picture. Deleted images can be recalled by checking the Display Deleted Photos box*.
In the Top Gallery and Bottom Gallery sections, change the order of your images by dragging and dropping them and then click Save Order.
The Top Gallery appears below the page title for most layouts - full width layouts appear above the page title - and the Bottom Gallery appears below your content.
*A common error when trying to delete an image is to click the Delete button below the image display, which is actually the delete button for the page. Deleted pages can be restored at any time without losing saved data. If you are still on the page, click Restore (in the same position as the Delete button had been). If you have navigated away from the page, click Display Deleted in your list of webpages and filter or scroll to find your deleted page. Select the page and click Restore.
---
Adding Photos for the Events Module
Event photos are pulled from Event Module pages on your Tentaroo website**.
Go to your website editor - hover over the Websites tab between Reports and Options and click on the site you wish to edit.
On the Pages tab (default when you launch the website editor), click the green plus sign to add a new page. This will bring up a menu of page types. Choose Event Module Page.
Enter a Name (i.e. Scouts BSA Resident Camp) and a short URL (i.e. residentcamp) for your event page. SAVE
Click on the Top Gallery tab. Click Add Media.
Click Choose Media To Upload to browse your files for an image (5 MB or less). Once you choose an image, wait for the image to appear in the bottom left of the box, then click SAVE and your image will be added to the page.
Continue adding as many photos as you want. They will cycle through the event module automatically. Each image will be cropped roughly square and will choose the action of the image to display.
**For councils that don't currently subscribe to our websites, we have added a "minisite" to your system at no additional charge. This minisite allows you to add Events Module pages where you can add photos so they appear on the events.
Full Width Slider Dimensions

Homepage Slider Dimensions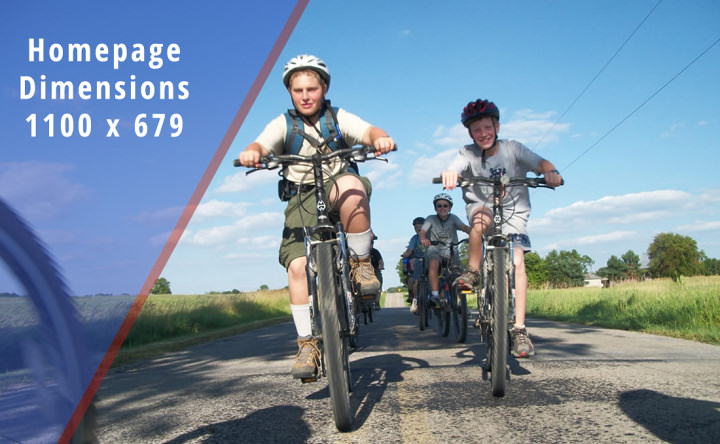 We are always happy to assist with website training.