User Account Financial Tracking
Last edited 1/19/2022
There are several tools available to you to help units and families track financial transactions in Tentaroo and answer questions about previous transactions, credits, and balances due. Some of these are also available to the group to review their own payments.
View Previous Orders

View Past Orders
View Available Credit
Process Refunds (admin only)
Process Generic Convenience Fees (admin only)
Generate Group Audit Log (admin only)

Checkout Tools

Apply Credit (admin only)
Unapplied Amount - Apply Overpayments (admin only)
Backdate Payments (admin only)

Event Invoices
Trip Itineraries
View Previous Orders
When the user logs in to their account or when an admin selects a client, they start at the account's Home screen. On the right in desktop mode, toward the bottom in mobile views, are the account settings options: Manage Profile, Manage My Group, and View Previous Orders. These are also accessible from the left-hand menu under Settings. Once in Settings, you can select the different options from the blue bar at the top.
View Previous Orders will bring the user to a list of all previous orders placed in the account.
Manage Past Orders:
For either the group or the admin, clicking on any of these orders will show you details of where the payments are currently applied.
The Generate Receipt button produces an HTML receipt in a new tab. This can be printed by right-clicking anywhere in the receipt webpage and choosing Print.
Admins can also Manage past orders, which is useful for several applications including unapplying payments, correcting offline payment amounts, and adding notes.
View Available Credit:
Users can see their Available Credit. This credit will be used toward their next purchase in Tentaroo.
Process Refunds and Convenience Fees:
Admins can also see Available Credit and can modify it by posting refunds or generic convenience fees, or by choosing not to use credit to pay for an order.
Account Audit Log:
Many common accounting questions regarding group (end user) transactions can be answered quickly by reviewing the group's audit log.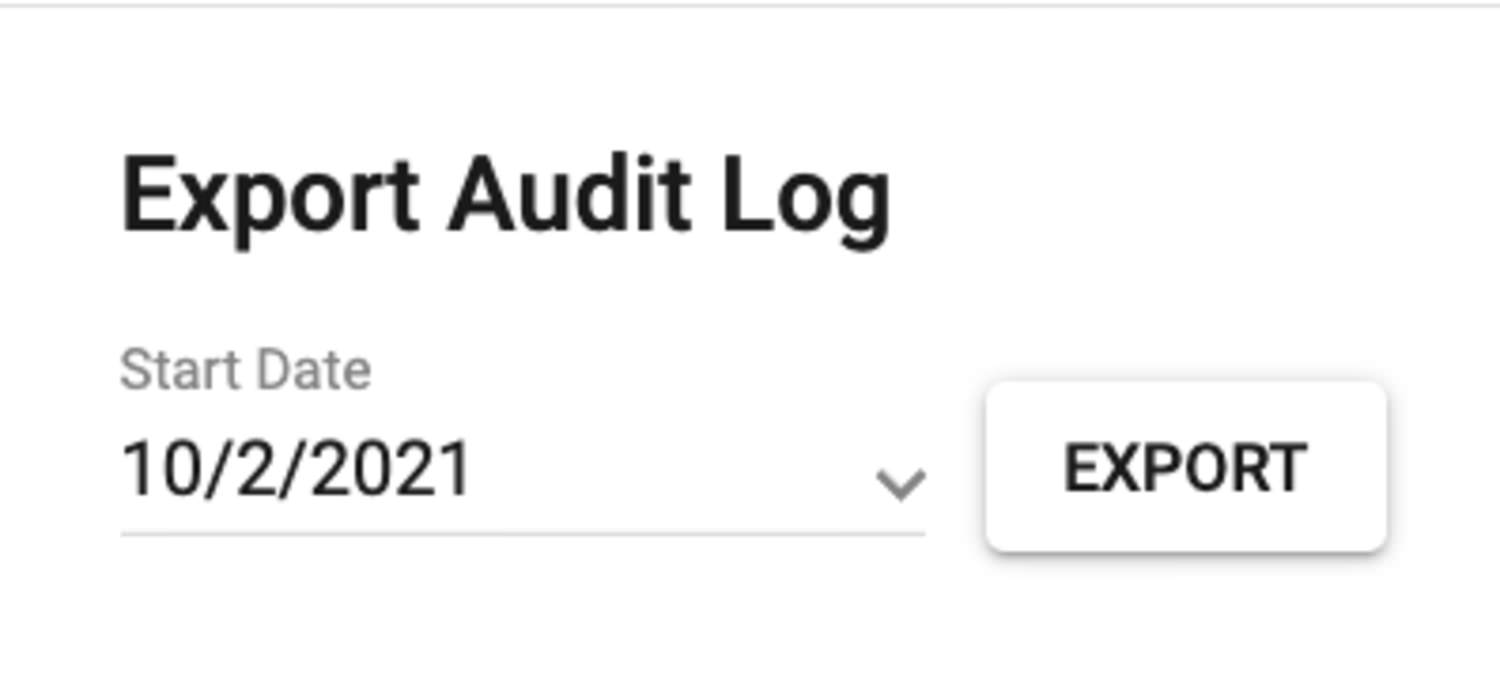 This report is in the same format as our system-wide audit log and includes line items by GL for every new payment as well as any changes to how existing payments are applied. The report also documents which user account was used to complete each transaction.
This is your go-to report for tracking down transactions and answering questions about the group's money trail.
How to Generate
This report is available to admins with permissions to manage groups and is found in the Client Settings under Previous Orders.
Set the Start Date for your report and click the Export button to download.
Checkout Tools
Apply Credits
When an account has credit available, that credit will be applied to the next purchase by default. Admin users have the choice whether or not to apply available credit during checkout. This is so an admin can post an offline payment made for the full amount regardless of credit on file.
Unapplied Amount - i.e. "Overpayments"
Occasionally, a payment received may be for greater than the amount due - perhaps the user reduced their order after mailing in a check - and the admin needs to post the full payment to the account. An admin can enter the overpayment into the Unapplied field in the checkout to add that amount as available credit.
Backdate Payments
For events that calculate pricing based on Date Paid in Full, the date the payment was made can affect the rates of the participants. Admins can change the date of a new or previous payment to reflect that and give the family or unit credit for early or base period payments.
Event Invoices
For events in Tentaroo, the registration details and a full payment history are included in the registration invoice. This report can be generated for a single unit in the group's Registration Summary by either the group or an admin, and a full list of all invoices for the event can be found in event reports on the Dashboard.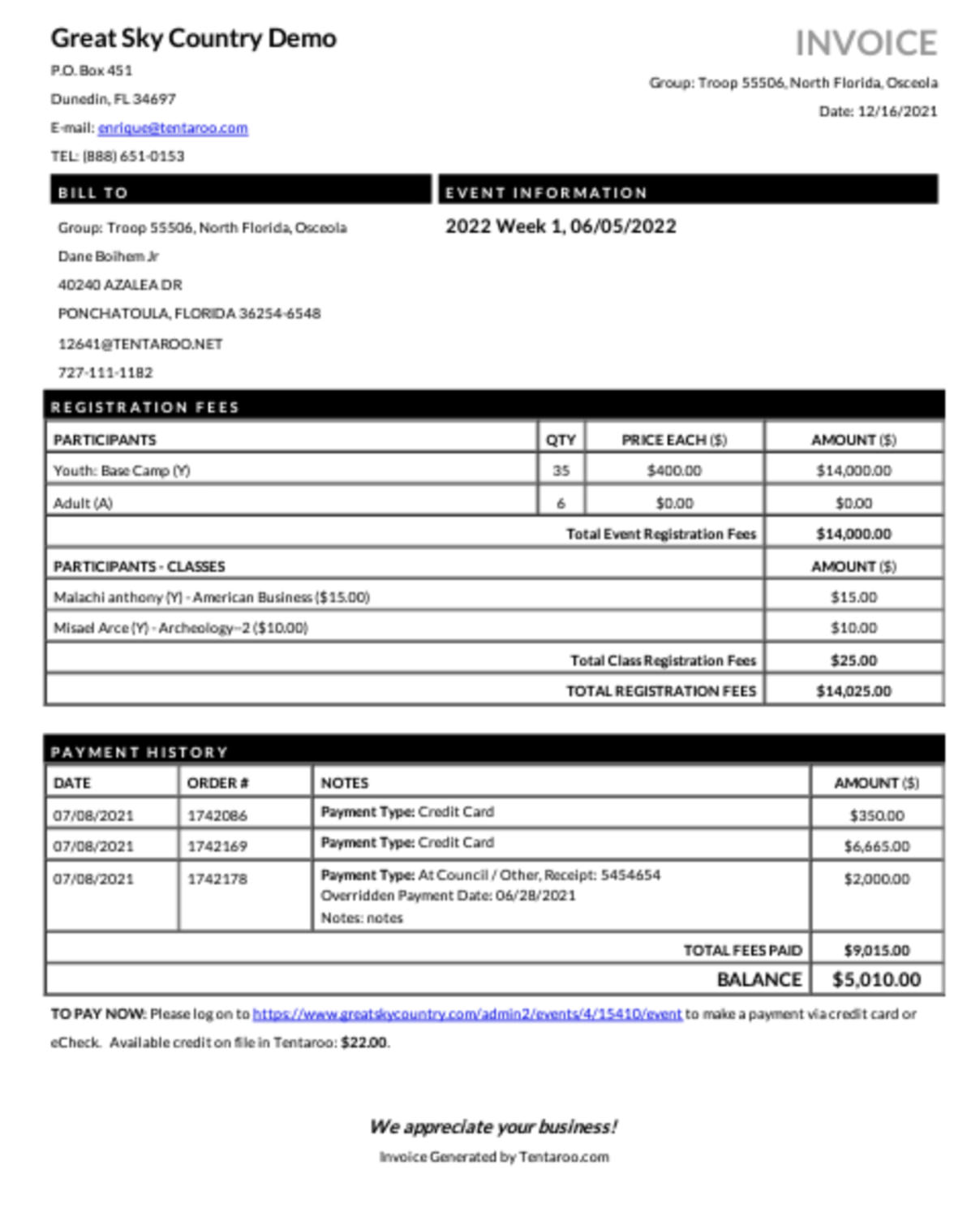 Trip Itineraries
Each Trip has an itinerary that includes details of all reservations in the trip, group contact information, and amounts paid and due. This can also be generated by the group or an admin at the group trip level, or on the admin side under Facility Reports for the Location for your set time frame.
We are always happy to assist with training.