Facilities
Last edited 12/16/2019
The Tentaroo Facilities Module organizes all of your year-round facility booking into one universal location, complete with reports, online payments, real-time availability, and council blackout dates. Increase your facility usage and revenue from year-round camping with our easy-to-use tools.
Facilities Topics
Defining Your Locations (Scout Reservation)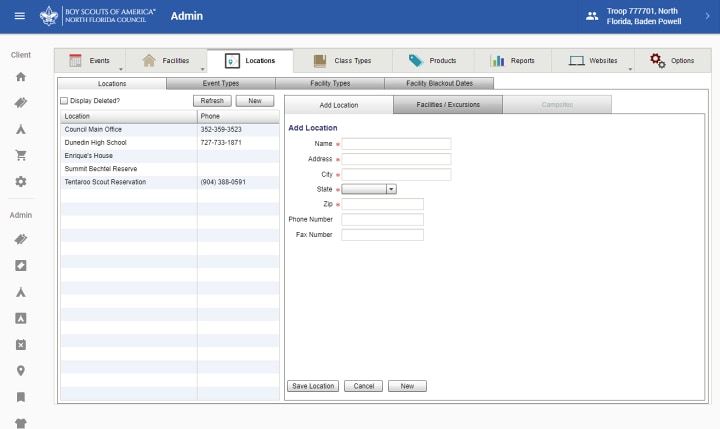 Locations:
Are shared amongst all 3 Tentaroo modules.
Are unlimited.
Can individually be set to allow reservations.
Can host events from the Event Module or the Website Module.
Setting Your Location's Defaults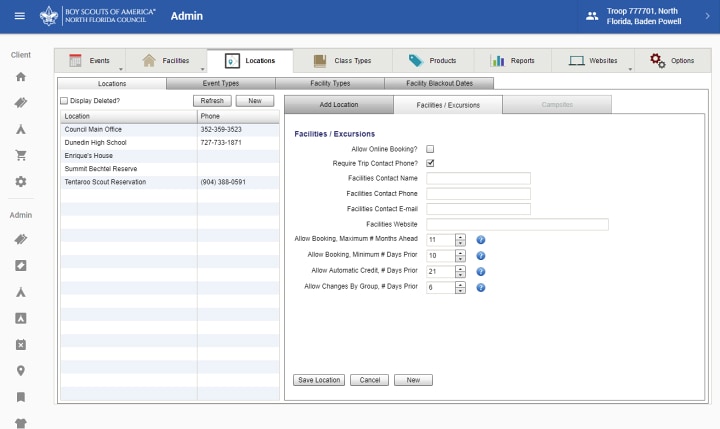 The settings on this tab set the defaults for all facilties created at the location within the Facility Module. This tab does not affect Events or Websites.
Allow Online Booking: Use this to turn booking on and off at the location. You will want this unchecked while you are building your facilities.
Require Trip Contact Phone: Require phone number when creating a trip.
Facilities Contact Phone: Locations display phone number for end-users when viewing facilities.
Facilities Contact E-mail: Locations display e-mail for end-users when viewing facilities.
Facilities Website: Use this only if you do not use Tentaroo websites.
Allow Booking, Maximum # Months Ahead: Sets how many months in advance a reservation may be made by your users based on the date they make their reservation.
Allow Booking, Minimum # Days Prior: Sets how close to the reservation date new facility or excursion reservations can be made. For Example: Enter 7 if you want a week's lead time for new reservations; a group cannot book your facility less than 7 days prior to the start date of their reservation.
Allow Automatic Credit, # Days Prior: Sets how many days prior to the reservation groups will be allowed to remove reservations and automatically get credit added to their account for any payment. Allows admin management of council cancellation policies.
Allow Changes by Group, # Days Prior: Sets how many days prior to the reservation changes will be allowed.
If you have a topic you would like to see covered, please submit a request on the
Topic Suggestion
page.